An Aluminum Fence is the Way to Go in Southern MD
For Protection and Beauty in Prince George's County, an Aluminum Fence is the Way to Go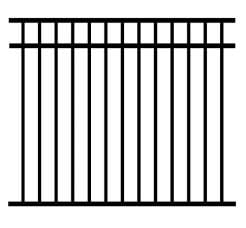 When shopping for fencing in Prince George's County, as far as variety goes, the two most impressive looking fences are either wood based or aluminum. Unfortunately for the aluminum fence industry, many people automatically think of chain link fences in PG County when they hear about aluminum being used as a fence building material. Chain link fences are indeed made out of aluminum, but as far as aluminum fencing goes, they are just the slightest tip of the iceberg. The aluminum style also comes in a variety of ornamental styles to complement nearly any house (especially those that are pre-World War One). Such decorative fences are currently available in two unique styles: aluminum color or antiqued wrought iron look, so even modern homes can enjoy the style and charm of an aluminum fence.
Jerith Fencing
There are currently three well known aluminum fence makers in the United States. The first, and most popular of these is Jerith, which is what we use at Thomas Fence Company.  They make a huge variety of different fencing options. Their products mostly have an antiqued decorative look, but they also provide fencing options for those looking for a more modern fence. Furthermore, many of their products are completely pool safe so you can use them to fence in your above or in ground pool. They also offer  a variety of uniquely ornamental styles. For those looking for the more modern approach, straight lines and lack of decoration for your fencing choice.
Unlike the chain link fence, an aluminum model offers much more security to the homeowners.  Due to its characteristic lack of horizontal beams which a person can use to climb a fence, an aluminum fence can offer you rock solid protection from intruders.
If you've just searched for a fence company near me in Prince George's county, your search is over. Contact Thomas Fence company today.