Jerith Aluminum Fence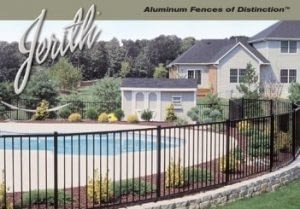 Exposed Picket Designs
These designs have no top rail, and are classic "wrought iron" designs that have been used for over 100 years.
Covered Picket Designs
A smooth top rail makes these styles perfect around pools. These are our most popular designs because of this. Their aluminum construction makes them ideal for pool enclosures since they can never rust.
Specialty Designs
These fences have a narrower space between the pickets to keep pets inside your yard. The spacing also makes it very difficult for children to obtain a foothold on the fence.
Wire Fence Designs
Jerith's Patriot line of wire fence is a great alternative to aluminum fence that's strong, but has a more subtle visual presence that blends in with the environment. To see our full line of wire fence alternatives, download the Patriot Wire Fence Style Guide
FINIALS, GATES, ARBORS AND LATCHES
Jerith has a wide variety of scrolls, finials and other items to accent your Jerith fence. Gates are also available to match any of our fence designs, and we have aluminum arbors to highlight a walkway or gate into your yard.